Congratulations Tom Starita you're the featured Infinity author of the week!
Author of Two Ways to Sunday, Tom Starita has been knocking it out of the park between
being a popular interview for online bloggers to doing local events at the New York Public Library. Oh and did we mention, this guy can sell some books!
If you're just being introduced to Tom and his work, we think you'll be pleasantly surprised. He is an author to watch and be sure to buy a copy of his book Two Ways to Sunday, so that you'll know what everyone is talking about!
Book Synoposis:
Chris Marcum was a man who had everything. The perfect wife, the perfect job, and the perfect life. He was also sure his belief in God did not depend on those successes. So when an angel appeared to him on his deathbed with a challenge to prove the depths of his faith, Chris immediately accepted. Relive your life, with no recollection. This time however, without the breaks. What happens when instead of going right, you go left? What if there are no happy endings? How much can a man endure before he hits his breaking point? And what happens then?
About the Author: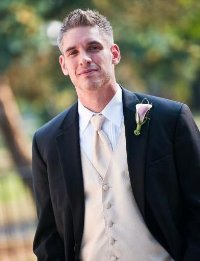 Tom Starita has two passions in life, writing and the New York Mets. Both have taken years off his life. He spent seven years teaching high school religion, six months as an office manager and is currently in sales. The only goal he ever had was to be published. His dream is to spend the rest of his life lounging in a pool with a book. Tom loves to laugh, loves to make people laugh and most of all loves his beautiful wife Kristina who he calls Lady. They currently reside in Weehawken, New Jersey with their dog, Tzatkiki.
REVIEWS:
5.0 out of 5 stars
GREAT READ!, March 13, 2013
This review is from:

Two Ways To Sunday (Paperback)
This book was my book club's selection of the month for March. I can honestly say I did not want to read it. I just assumed it would be overly religious and not interest me. My opinion was far off and I am glad I read and finished the book. As you follow the main character, Chris through his life and his "other" life it makes you think about the choices you make or have made in your own life. If I had to describe this book in two words it would be, "hope and faith".

Recommend this book to your family, friends and coworkers.
Great book! Well done Tom! Can't wait to see another one.

Format:
Kindle Edition
|
Amazon Verified Purchase
The author isn't preaching to you or telling you how to live your life. This is a story that makes you think about your spirituality and how you live your life and how you handle all the curveballs. My only issue with the book is the fact the main character is way too infatuated with the NY Mets. If the character were a Yankee fan it would be that much better.
5.0 out of 5 stars
Two Ways to Sunday, February 22, 2013
This review is from:

Two Ways To Sunday (Paperback)
This book offers faith & inspiration in a time when, unfortunately, alot of people are questioning their faith with all that is going on in the world. It in no way shoves the beliefs down your throat or makes you feel spoken down to. The author has such a way with words that he makes you fall in love with the characters. I didn't want the book to end & I truly became concerned about Chris Marcum's well-being. If I wasn't on the bus when I finished the book I would have cried. It touched a part of me that I forgot was there...